Professional Indemnity Insurance
EPASSA has secured very reasonably priced professional indemnity cover with AON. Paid-up members are eligible for the reduced rates – click here for 2020 rates.  
Contact details for AON: 
Shonal Maduramuthu: 
shonal.maduramuthu8@aon.co.za
+27 11 944 7064
Download application form here.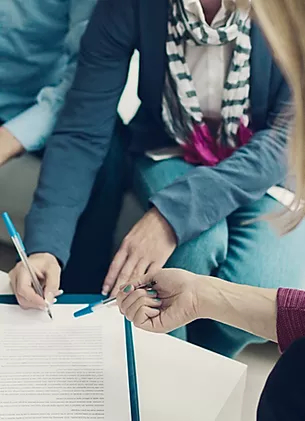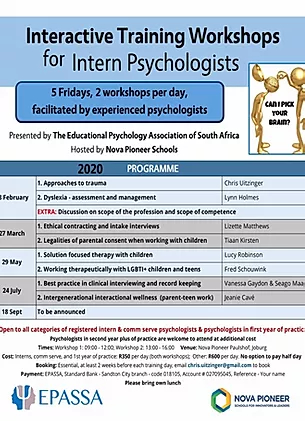 Interactive Training Workshops
EPASSA will be presenting a series of interactive training workshops in Johannesburg for interns, comm serve and newly qualified psychologists (first year in practice). The workshops are intended to build on and enhance existing skills and knowledge. 2 workshops per day, R350 per day. Psychologists in practice for a year or more are welcome to join for R600 per day. Booking essential. Email chris.uitzinger@gmail.com
How to Develop Resilience in Our Clients
As mental health practitioners, we aim to help our clients find their resilience. Join us as Dr. Tracey Farber explores this in our upcoming online training. 2 CPD points available.
Visit https://qkt.io/BRinC to book
The webinar will cover:
Building resilience in self as a mental health practitioner
Building resilience in the therapeutic relationship
Using clients' positive attachments and experience of mastery
The critical importance of hope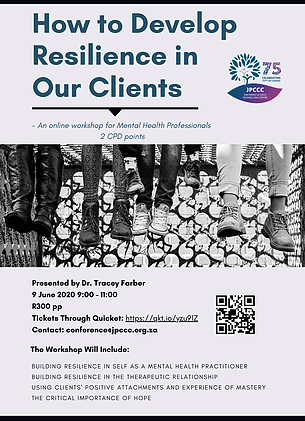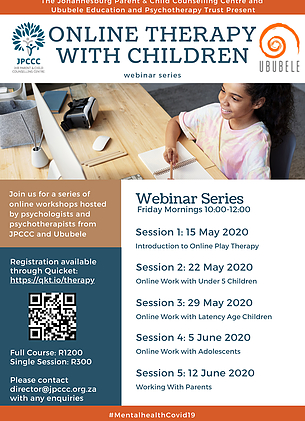 Online Therapy With Children
The Johannesburg Parent & Child Counselling Centre, along with Ububele, invite you to attend a webinar series with a focus on working with children online. Tickets available through Quicket: https://qkt.io/therapy.
The first webinar takes place on the 15th of May and will provide an introduction to using online platforms for therapy with children, and will be presented by Mary-Anne Tandy – Psychotherapist and Jessie-Anne Bird – Educational Psychologist.
Foundational Course in Neuropsychology
Neuropsychology SA is preseenting a one-year distance learning course aimed at equipping psychologists with essential knowledge  of neuropsychology and some experience in test administration.
Click here for more info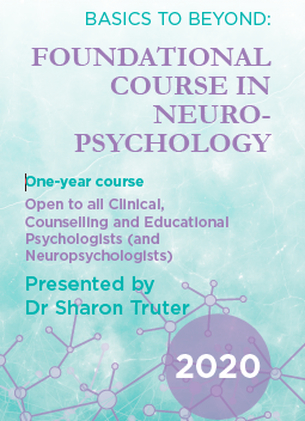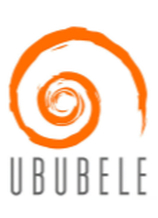 An Introduction to Parent – Infant Psychotherapy
An Introduction to Parent-Infant Psychotherapy is a once-a-week, 8-week training course that provides mental health professionals with an introduction to infant and perinatal mental health theory. The course is presented by Katharine Frost – Educational Psychologist and Executive Director of Ububele and Nicki Dawson – Counselling Psychologist and Manager of the Ububele Parent-
Infant Programmes.
Programme information available here